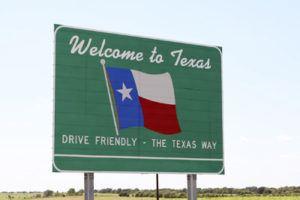 Welcome to the Lone Star State!
If you have just moved to Texas, Roadway Lube Plus, LLC, would like to help you with the process of getting your vehicle inspected and registered with the State of Texas. Texas law requires that you register your vehicle within thirty (30) days. The following is a list of steps required to accomplish both. If you have any questions about your auto inspection, please feel free to contact us.
Here are the steps to becoming a Registered Texan:
1. Insurance.
Make sure your have your current TEXAS Proof of Insurance card. Texas requires that you have insurance coverage for a minimum of $30,000 per injured person, up to a total of $60,000 for everyone injured in an accident, and $25,000 for property damage. Because we are not familiar with the insurance minimums in other states, we are required to see proof of insurance that has been issued for the State of Texas.
2. Safety / Emissions Inspection
Simply bring your vehicle in to Roadway Lube Plus, which is a certified Texas Department of Public Safety (DPS) inspection station.
Effective March 1, 2015, the state's portion of the inspection fee will be due at the time of registration.
3. Registration
Next, it's time to get your vehicle registration sticker and license plates. To do this, you must visit your local county tax-assessor collector office. You will need your insurance card, proof of vehicle inspection (the Vehicle Inspection Report from the inspection station), and proof you own the vehicle, such as the registration or title from your previous state. You can also show a current foreign/military ownership document or foreign evidence of ownership. Please note that if your insurance policy was issued in another state, you will need to bring your policy in its entirety so that insurance coverage minimums may be verified.
Welcome to Texas Ya'all!